CM Gallery
Chantilly Castle (outside)
Chantilly Castle (inside)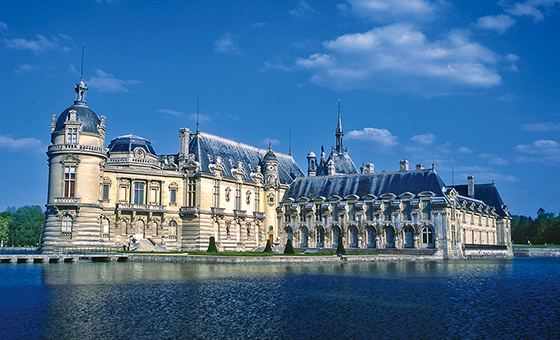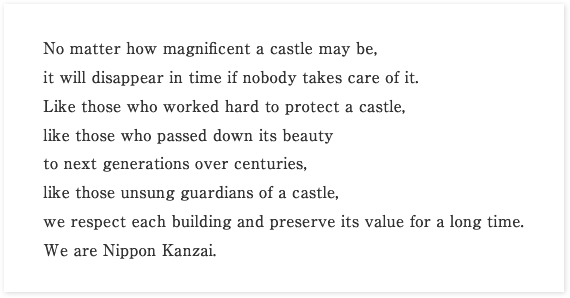 Our Company's commitment to keeping and preserving buildings' value is introduced with an image of a "historic architecture" that has long maintained its beauty and that is still loved by people all over the world.
The architecture used in this advertisement is Chantilly Castle located in Ile- de-France region in France.
It represents Nippon Kanzai's policy which is similar to that of people who preserved Chantilly Castle for centuries.



What is Chantilly Castle?
Chantilly Castle is a Renaissance-style old castle. It is now converted into a museum and loved by local people. It is also a destination for a lot of tourists from all over the world
The castle is located at 47km north of Paris which is about a 50 minute-drive. It is structurally complicated yet a well-proportioned and well-balanced architecture.

It is said that the Chantilly Castle may be the prototype of garden of Palace of Versailles because Mr. Lenotre, who designed the garden of Chantilly Castle, was also involved in building the garden of Versailles right afterward.
Mr. François Vatel was appointed as the chef by the castle owner at the time of the King's visit to Chantilly Castle. He was referred to as a perfect model of French chef.
Whipped cream made of fresh cream was his original recipe and later this was called Crème Chantilly.
Chantilly Castle is located adjacent to the third and fourth corners of Chantilly Racecourse, where Prix du Jockey Club, a French version of Derby, and Prix de Diane, equivalent to Oaks, are held.
It is known as the most beautiful racecourse in the world.

Behind the scene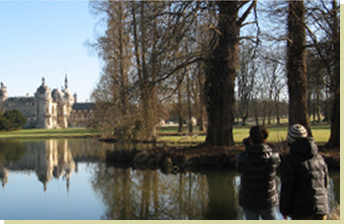 Under a fantastic weather condition after the previous days' storm, a two-day commercial shoot started.
Interior shots were done on the first day while the museum was closed and exterior shots were done next day.
The filming took place on a vast location within a limited time frame, during which all the crew had to carry heavy gears from one spot to the next. Due to the great teamwork among the local and Japanese crew, and with cooperation from the Chantilly Castle staff, the filming successfully finished.
Exterior shots
The premises are surprisingly large.
A compact camera was used for mobility.
Interior shots
With the crew surrounded by culturally important properties, the air was tense.

Production supervisor

NS Corporation Co., Ltd.
Production company

BBmedia Inc.
Director

Yoko Yamaguchi
Copywriter

Shiro Sato
Art director

Osamu Miyazaki
Local coordinator

NOSVOS
Camera operator

Kinya Yasunobe
Music

Takuya Murakami
Narration

Takashi Yuki