Analysis of enormous amounts of facility data
Simulation of operation and maintenance plan
We compile various data on more than 3,000 buildings under management across Japan. Database on maintenance operation cost and repair cost is established. By comparing data of buildings of the same size and use in similar cases, we can suggest an accurate repair cycle and expenses to provide an effective maintenance and operation plan.
Characteristics of Nippon Kanzai's database
Utilizing the "Building Record" developed in our core system, data on more than 3,000 buildings under management across Japan is accumulated.
Since the database of management cost can verify quotes, it is used to improve the reliability of our suggestion.
Accumulated data on repair work is academically analyzed in collaboration with Tsutsumi laboratory office of Maebashi Institute of Technology.
Repair plan simulation using the database allows verification of the effect of building's useful life extension.
LEAD-Web system consolidates the management of facility information, such as inspection reports and repair history, on the Internet. Information can be shared among the clients, our staff, subcontracting companies, etc. in real time.
Analysis example of repair data

Simulation of a repair project
Our own service based on database
~Service Level Guaranteed Agreement~
We propose leveling of lifecycle costs
using Nippon Kanzai's database
Repair cost fluctuates greatly each year depending on the useful life and deterioration level of the construction and equipment. There are many clients who want to level this variable cost and eliminate the fluctuation among the years. At Nippon Kanzai, we provide contracts that guarantee service level to average out lifecycle costs, including repair cost, based on the accumulated database, while assuring a certain level of building performance.
What is a contract to guarantee implementation?
For mid- to long-terms of 10 to 15 years, we make contracts to guarantee the agreed building performance, for fixed annual fees inclusive of building maintenance fee, repair cost and other expenses.
Benefits for clients
・Expenditure of lifecycle costs including repair cost is stabilized and it is easy to calculate income and expenditure plans.
・The clients' labor required for repair work can be reduced.
・The clients can enjoy the effect of equipment renovation in the early stage.
Targeted buildings
・Buildings that already require a large amount of repair cost to preserve the asset values.
・Securitized buildings, etc. for which stabilization of yearly expenditures and long-runrisk hedge are desired.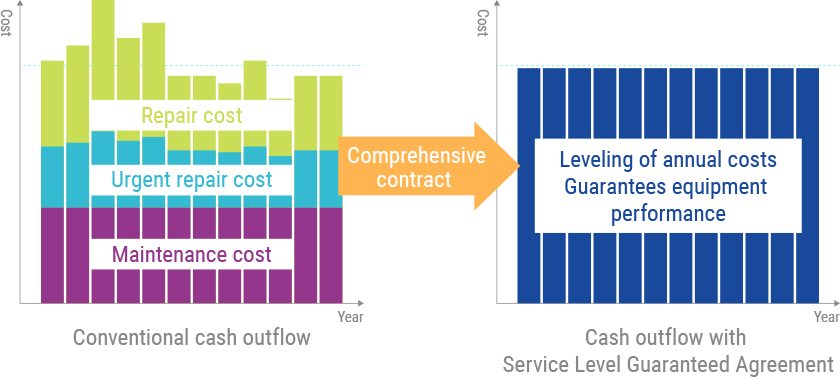 Nippon Kanzai's Engineering Service