We are one of the top players
in the industry in terms of
the number of projects.
We have actively participated in PFI projects since PFI Act came into effect, and have built track records.
Now we are at the top as a building management company with 30 sites under management across Japan. The buildings include university, government office, hospital, culture, sports stadium, MICE, market and aquarium, which all support the extensive track records.
Outstanding knowhow of lifecycle cost management
While repair cost is fixed during a PFI project period, we have the knowhow to preserve the building performance in long term based on the lifecycle cost management from a mid- to long- term perspective.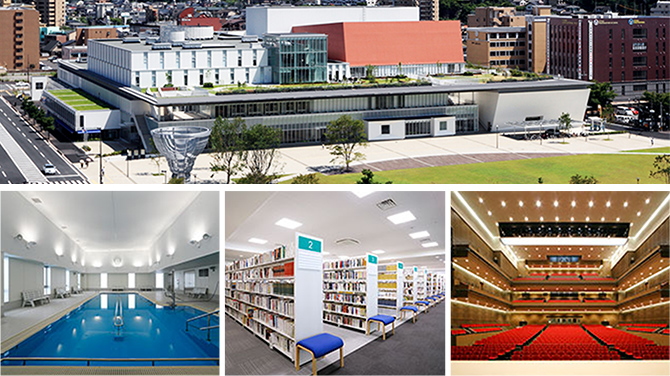 Management experience of PFI projects
● Hokkaido Prefecture

Development project for Hokkaido University's Environmental Resources Bioscience Research Building
Sapporo City Chuo Ward Office Complex Improvement Project
● Niigata Prefecture

Development and operation project for Niigata's Prefectural Budokan
Development project of Joetsu Citizen's Plaza
● Chiba Prefecture

PFI specific project for Chiba City Consumer Center, Weighing and Inspection Station's complex facility
● Tokyo Metropolis

Development project for the House of Councilors' new office building
Development project for National Graduate Institute for Policy Studies
Development and operation project for Shinonome government building
Development and operation project for Cancer and Infection Medical Center
Ariake Arena Management and Operation Project
● Kanagawa Prefecture

Development project for MM 21st central district, 20th block's MICE facility
Redevelopment project for Yokohama Cultural Gymnasium
Development, management and operation of the facilities in Mitsukedai area (Blocks A and C)
Shizuoka Prefecture
PFI project to develop the area around Koryo Park
● Gifu Prefecture

Development Project for Gifu World Fresh Water Aquarium
● Aichi Prefecture

Development and operation project for healthcare center, health center, and community rehabilitation center, etc.
Development and operation project for Aichi Industry & Labor Center
Nagoya International Exhibition Center New Exhibition Hall No.1 Development Project
Nagoya Racecourse Relocation and Improvement Project
Nagoya City Mizuho Park Athletic Field Improvement Project
● Shiga Prefecture

Kusatsu Municipal Swimming Pool Development and Operation Project
● Kyoto Prefecture

Development project for Kyoto University (Nambu)'s Med-Pharm Collaboration Bldg.
Osaka Prefecture
Tenpozan Passenger Boat Terminal Improvement PFI Project
● Tokushima Prefecture

PFI project for intensification of Tokushima prefectural housing
● Hyogo Prefecture

Renovation of Kobe University (Rokkodai 2)'s general research building (agricultural science) and facility development project
Redevelopment project for Main Market of Kobe City Central Wholesale Market
● Yamaguchi Prefecture

Development project for Shimonoseki Community Budokan
● Fukuoka Prefecture

PFI project for business development of Kitakyushu City Kurosaki Subcenter's "Hub Area for Culture and Interaction"
Development project for Fukuoka City's new hospital
Development project for Kyushu University (Ito)'s experimental study building
Sawara Community Exchange Center Development Project
Fukuoka City Cultural Facilities Development and Suzaki Park Redevelopment Project
● Oita Prefecture

Development project for Oita City Tsurusaki Comprehensive Citizen Administration Center
Development project for Oita City Wasada Comprehensive Citizen Administration Center
Development project for Oita City Cultural Exchange Complex Facility
Project for the development of a public facility complex on the site of the former Niage-machi Elementary School
● Kumamoto Prefecture

Development project for Kumamoto City General Health and Welfare Center
Development project for Kumamoto Government Office Complex B
● Nagasaki Prefecture

(Provisional) Development and Operation project for Nagasaki City's exchange base facility
● Miyazaki Prefecture

Miyazaki Prefecture Swimming Pool Development and Operation Project
● Kagoshima Prefecture

Development project for Kagoshima University (Korimoto)'s Environmental Biological Research Building
Construction project for Wadomari-cho's new government office building
● Okinawa Prefecture

Operation project for Naha Port General Distribution Center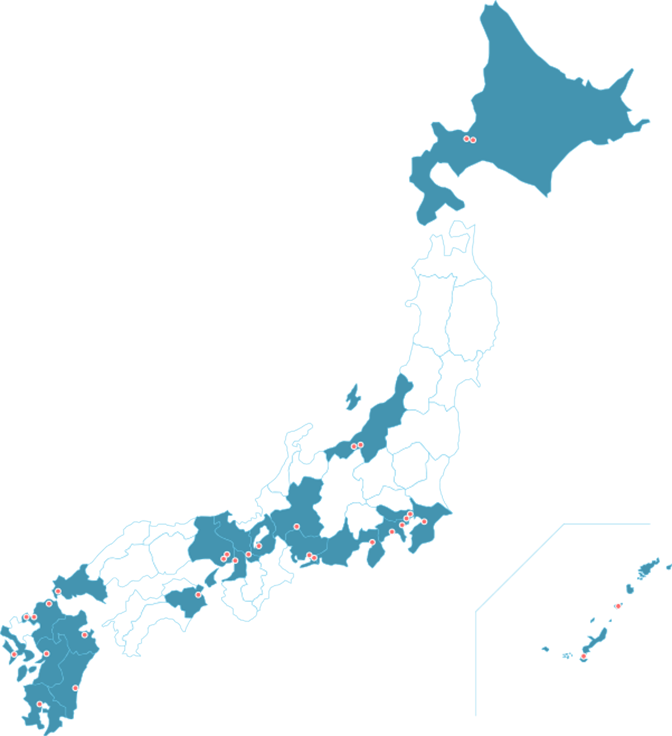 Industry-leading track records
In terms of the designated manager system institutionalized by a partial amendment of the Local Autonomy Act in 2003, we have been designated as a manager for circa 100 projects, which is an industry-leading track records.
By forming a consortium with different operating companies suitable for the use of properties, we work on projects to contribute to improving the quality of public services.
Control the risk of fluctuations
Controlling the utility cost, repair cost and other variable costs as a designated manager lead to a higher profitability of facilities.
We optimize lifecycle costs without degrading the services and user-friendliness.
Management experience as a designated manager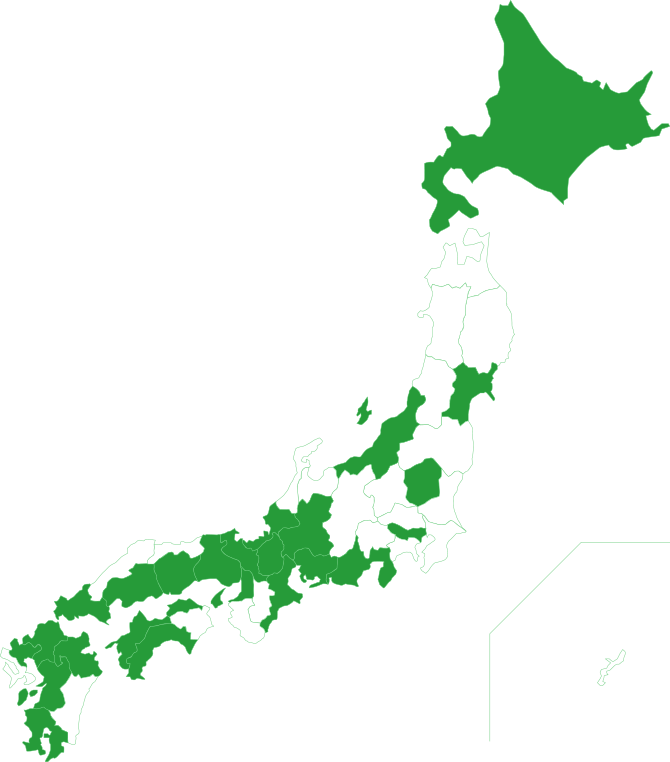 At circa 100 facilities across Japan
Sports facilities
Cultural and civic hall facilities
Information centers
Community exchange facilities
Libraries
Welfare facilities
Lifelong learning facilities
Public housing
Car parking and bicycle parking areas
Funeral halls
And others
Optimal entities are established to match the characteristics of the facilities
We have networks with different companies, including design companies and construction companies to do the designing and construction, operating companies to operate the facilities and perform profit-making businesses, financial institutions to take care of financial matters of the entire business, and leading companies active in the community.
Knowhow of managing facilities as a leader company
Depending on the purpose of facility and project, we work on many projects as the leader company.
We are involved in not only building management but also other various activities, such as operation of the entire facility, holding events, and industry-university joint research.
Stable business foundation
We are equipped with a reliable and solid business base to provide continuous and stable services under mid- to long- term contracts, for instance, contracts of designated manager for 3 to 5 years, and PFI projects for 15 to 30 years.
Growth potential
Our sales grew each and every year since our foundation. Major players involved in PFI projects trusts us for long-term projects because of this continuous growth.
We are capable of developing up-to-date services to meet the ever-changing demands.
Transition of our sales
Equity ratio: more than 60% Current ratio: more than 231%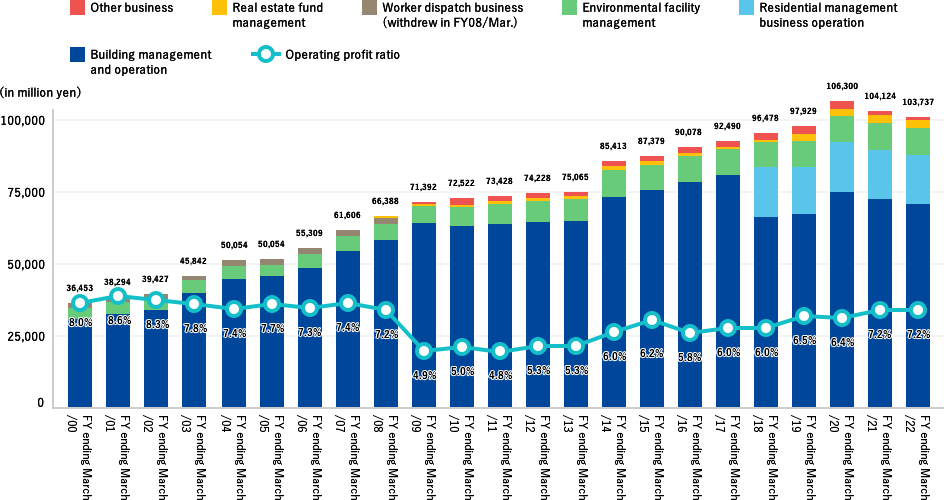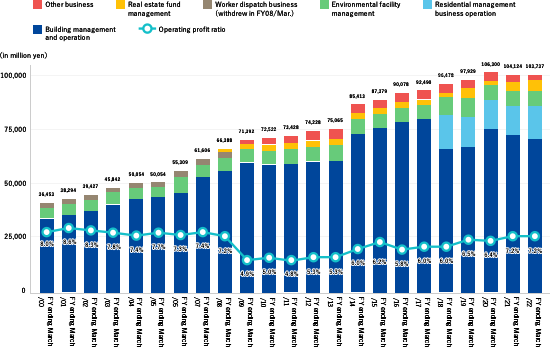 We support standardization of building's "lifecycle costs", taking advantage of our stable business foundation and our own database
〜Service Level Guaranteed Agreement〜
Repair cost fluctuates greatly each year depending on the useful life and deterioration level of the building and equipment. Many clients wish to standardize this variable cost and get rid of the fluctuation among the years. Nippon Kanzai's contract guarantees standardization of building's lifecycle costs, including repair cost, based on our accumulated database, while maintaining a certain level of building performance.
For mid- to long-terms of 10 to 15 years, we make contracts to guarantee the building performance agreed upon with the clients, with fixed amount of annual fees inclusive of building maintenance fee, repair cost and other expenses.
Benefits for clients
・Easier to prepare income and expenditure plans because building's lifecycle costs including repair cost will be stabilized.
・Labor reduction required for repair work.
・Prompt realization of the positive effect of equipment renovation.
Targeted buildings
・Building that already requires a large amount of repair cost to preserve its asset value.
・Building that requires stabilization of the annual cost and long-term risk hedge such as securitized real-estate.