"Technological capability=human power"
Nippon Kanzai values human resources
We believe that the core element of our service is the employees. From recruitment to development for career advancement, we strengthen our human resource strategy, and strive to further improve the service quality.
Human resources initiatives
For securing staff resources, we recruit through a broad range of channels.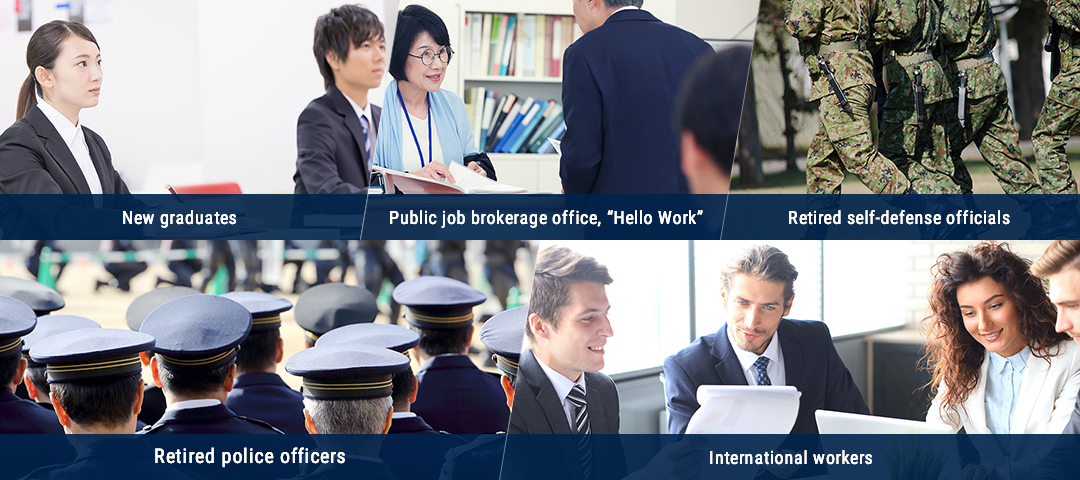 Recruitment of new graduates (from high school and college)
Make visits to target schools.
Hold workplace tours for job applicants.
Prepare career plans for high school and college graduates recruited for on-site work.
Recruitment through public job brokerage office
Make visits to major public job brokerage offices ("Hello Work"), and hold hearings on how to prepare job postings (preparation of job postings from the applicant's point of view).
Based on the above, the way of preparation is adapted to each business division, the contents of main job postings are confirmed, and correction is made as necessary.
Promote job application by sending our postings to registered applicants who have allowed the disclosure of information (By approaching multiple Hello Work offices, we send to as many applicants as possible).
Recruitment of retired self-defense officials
Make visits to Self-Defense Forces, and submit our job postings.
Attend employment explanation meetings held by the Self-Defense Forces.
Hold workplace tours.
Recruitment of retired police officers
Make visits to Human Resources Centers of police headquarters and submit our job postings.
Give group trainings to candidates for team leaders before commencement.
Recruitment of international workers
Make visits to Employment Service Centers for international workers ("Hello Work") and submit our job postings.
Select workplaces that accept international workers, and match them.
Recruitment of working collage students
Make visits to target universities, and post recruitment information on bulletin boards.
Recruitment through website
Keep track of vacant positions at each business division in real time, and update the information on the recruitment section of our website.
Make effective use of information on applicants, such as sharing information between business divisions.
Free-of-charge referral of human resources, recruitment from vocational schools
Making use of applicants' information and considering their qualifications and experiences, actively approach to them to promote job application.
Make regular visits to the person in charge of referral.
Hold employment explanation meetings for students of vocational schools.
HR strategy
We produce career plans for on-site employees to have a system where they can improve their careers depending on ability.
Information exchange held regularly and cross-departmentally
Promotion of career advancement of new graduates
Promotion of getting the right people in the right seats
Market research and analysis of job-to-applicant ratio and offered wages, etc.
Confirmation of operational situation on site, and improvement as necessary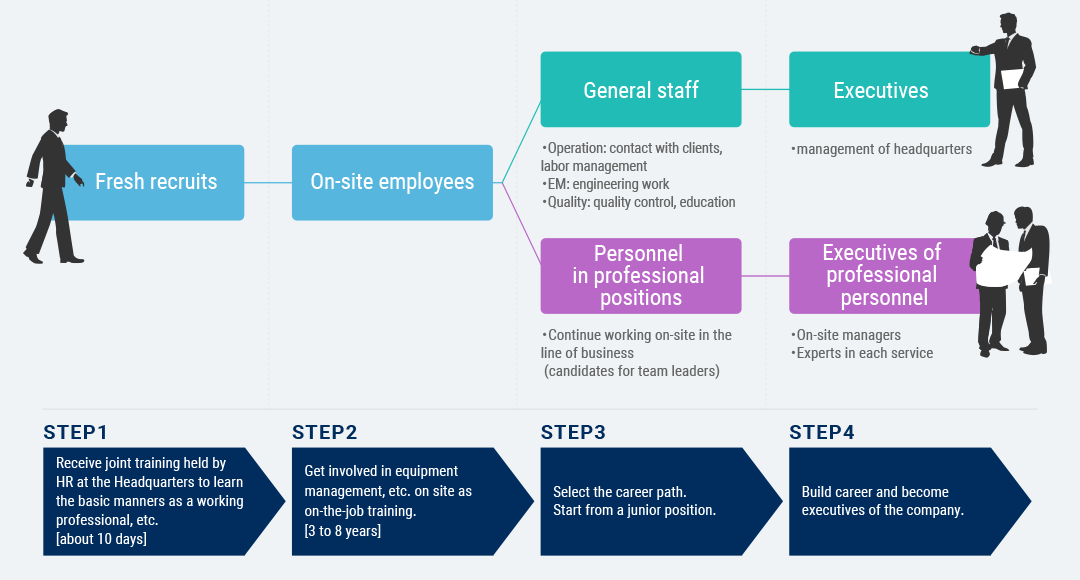 Human resources development
Considering that on-site quality=on-site employees, we support acquisition of expertise, skills and qualifications.
Quality and reliability of equipment management and engineering service are assured by our employees' capabilities. We believe that cultivating competent engineers will improve reliability of our services.
To that end, we are producing public license holders such as electricians and chief electrical engineers. Moreover, by holding various workshops regularly and striving for maintenance and improvement of technical capabilities and catch-up of the latest technology trend, we are able to provide reliable services to the clients.
Certified specialist of building cleaning
Electricians
Other practical training
Trainings on electric sequence

Trainings on disaster prevention board

AED / Cardiopulmonary resuscitation training