We comprehensively support reorganizing public facilities in planning, decision making, implementation, etc.
We can present you with effective proposals on relocation plan, longevity plan, and basic concept and plan of maintenance for each facility.
In order to implement a comprehensive management plan, it is essential to grasp the current status of the facility.
We offer various diagnoses (degradation diagnosis, seismic diagnosis, energy saving diagnosis, etc.), to analyze and evaluate the conditions of the facility.
In longevity plans for facilities, it is necessary to clarify the deterioration, as well as prioritize the works such as renovation, and to estimate the cost. We propose specific measures based on our expertise gained from building management.
We draft relocation plan not only based on deterioration and demands but also to reduce the number of facilities but improve or sustain the quality of public service. We support workshops promoting community development through joint cooperation between the residents and the local government.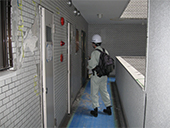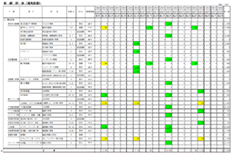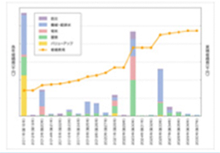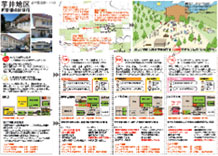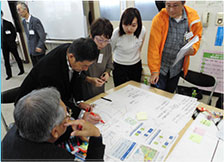 In order to manage facility strategically, it is desirable to centralize the management of information, including drawings, inspection results and repair history. We have developed our own facility management system to support appropriate and smooth facility management.
Public Facilities Management
Support System
A cross-departmental system that centrally manages "financial information" and "facility management information" related to the facility. Facility evaluation and calculation of life cycle cost will be available.
Portal site for integrated digital management of facilities information, including progress of periodic inspections and repair works, and electronic storage of reporting documents.
End users such as our customers, staff, and subcontractors can share information in real time.

One of the methods for centralized management of multiple facilities is
comprehensive facility management.
It has attracted attention in recent years as the first step toward ideal public facilities management.
Comprehensive facilities
management
It is a method of bundling works such as cleaning and maintenance of multiple facilities and outsource them to a private business as one contract.
It reduces staff's workload, improves inspection quality and enables smooth information sharing.
In PFI projects and the designated administrator system, Nippon Kanzai has managed a number of public facilities of various uses.
Because of these track records, we can respond appropriately to our clients in comprehensive management of various public facilities.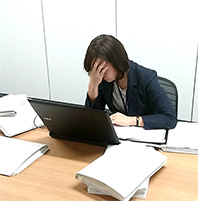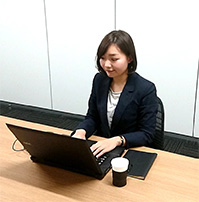 For appropriate public facilities management, it is essential for management company to provide proper maintenance and to keep buildings in safe and comfortable conditions.
Through lectures, practical training in actual buildings and other training on the client's requests, we support raising awareness within the government.
We hold seminars to provide necessary knowledge for maintenance of public facilities and teach participants the proper way.
Participants can deepen their understanding of public facilities management by going through some examples of PFI projects.
Practical trainings for skills
Our staff offer practical training of inspection on buildings, so that local government officials can conduct daily inspections and simple deterioration diagnosis of facilities by themselves.
Participants can acquire knowledge and skills for inspection.
Research & development
projects
We are engaged in research and development projects on public facilities management.
Based on experience and expertise gained from these projects, we support local governments in creating a new system.