NEWS
Feb 08, 2016
Obtained ISO50001 certificate "Energy Management System"
We are pleased to announce that NIPPON KANZAI Co., Ltd. has obtained ISO50001 certification from JQA (Japan Quality Assurance Organization) on January 22, 2016.
ISO50001 is an international standard that supports organizations to use energy more efficiently and to achieve continual improvement in energy management.
As a total building management company, our top priority is to provide better building maintenance service to our customers and the society. Based on such vision, we have obtained ISO14001 in order to address environmental issues and to develop a recycling-based society in cooperation with our customers. In addition, to improve total energy management service considered for energy-saving and cost-saving, amid cutting greenhouse gas effect is becoming more important, we have obtained ISO50001 as well.
We determined to make further efforts to contribute to our customers and social development by using technology and experience obtained through operation of ISO50001.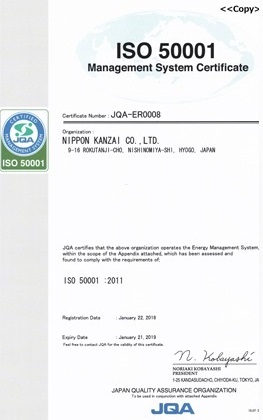 Certificate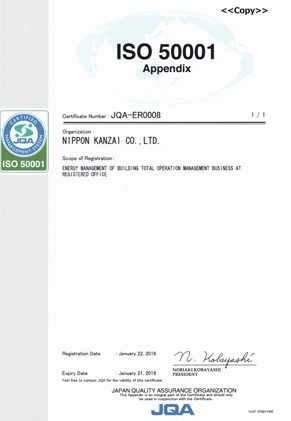 Appendix